Flood meeting over insurance concern in Pangbourne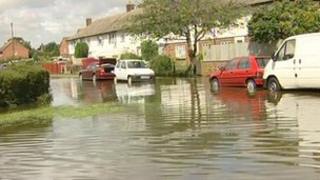 Residents in a Berkshire town badly affected by the 2007 floods have met industry representatives and politicians over insurance concerns.
A deal struck with the government meant insurers continued to offer cover for properties in flood risk areas long as it funded flood alleviation schemes.
However next month that agreement is due to run out and talks to replace it have not yet resulted in a new deal.
Amanda Davies, from the National Flood Forum, said many people were worried.
Ms Davies said: "We're getting hundreds of phone calls a month from people that are either trying to renew their insurance, or perhaps trying to purchase a property or sell a property, who are being told that their insurance premiums are going up or that their company no longer wishes to insure them.
"It's a very real threat at the moment."
Dozens of people attended a drop-in session at Pangbourne Village Hall on Saturday, where they could talk to Reading West MP Alok Sharma and West Berkshire district councillor Pamela Bale.
Matthew Cullen, of the Association of British Insurers, said: "We would like government to take some responsibility in a catastrophic event, because we think catastrophic risk actually should reside with the government, and reside with all of us."