Beenham compost fire still burning after five months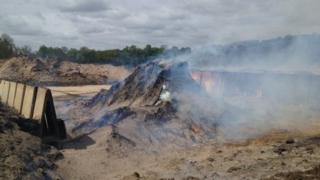 A blaze at a recycling plant in Berkshire that began in a pile of wood mulch in November is still burning.
The fire is being monitored by the fire service who say using water to put it out would create a giant ash plume.
The Environment Agency said it had been made aware on Thursday of an additional seat of fire on the same site, which is being managed as a controlled burn.
Recent high winds have caused smoke to billow from the smouldering fire, causing concern from residents.
The fire service said another meeting to review the fire with the Environment Agency and West Berkshire Council was planned for next week.
The fire, which covers an area the size of a football pitch, broke out in 1,000 tonnes of fermenting wood mulch on 30 November.
A fire service spokeswoman said: "Local residents may have noticed an increase in smoke in the area over the last couple of days on account of the blustery weather conditions.
"No homes or buildings are at risk from the fire, as it is contained within the site."
The wood mulch belongs to Good2Grow, which leased the land from waste management firm Grundon.
Good2Grow, which ceased trading before the fire broke out, has been unavailable for comment.