Simon Large murder: Ryan Quartermaine sentenced to 15 months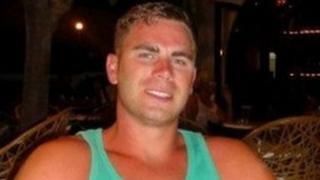 A man has been jailed in connection with the murder of a man following a dispute outside a Berkshire nightclub.
Ryan Quartermaine, from Mead Avenue, Slough was a passenger in a car in Ascot that hit 24-year-old Simon Large who later died from his injuries.
Quartermaine, 21, was sentenced to 15 months at Reading Crown Court for perverting the course of justice.
The driver Ricky Clarke-Dilly, 22, was found guilty of murder and sentenced to 15 years in prison on 2 May.
'Lied to police'
Quartermaine had been part of a group of men involved in a dispute outside the Club One nightclub in Ascot's High Street on 14 October.
Mr Large was struck by a car driven by Clarke-Dilly, of Grampian Way, Langley.
The car, had been hired by Quartermaine who was a passenger at the time, Thames Valley Police said.
Following the crash, police said Quartermaine texted his girlfriend to say his car keys had been stolen in the nightclub and told a police officer the same story when he was arrested.
Det Ch Insp Gill Wootton said: "This was a serious case of perverting the course of justice. Ryan Quatermaine lied to police in the immediate aftermath of the collision in order to distance himself from the investigation.
"Although he was not driving the car at the time, he was instrumental in trying to cover-up what really happened."