Mapledurham House sightseeing helicopters prompt row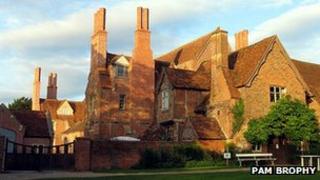 Sightseeing helicopter flights from a stately home on the Berkshire/Oxfordshire border have caused concerns over noise.
About 70 flights operate daily during 10 days of tours each year from Mapledurham House.
Residents who describe the flight days as like "being in Vietnam" have called for the flights to be scrapped.
The estate said the events, which run from February to October, were essential for its upkeep.
Robert Wytchard from the estate said: "We are aware, we have listened and reduced the number of days by half from 20 to 10.
"Farming isn't anywhere near enough to secure an income. It's incumbent for the owners to find funds for the upkeep of estate and house."
'Uncontrolled airspace'
The estate said flying days had also been changed from Saturday and Sunday to Friday and Saturday.
Village resident Tim Whitaker said: "From 10am until 5pm you've got seven hours non-stop of six minute circuits.
"It feels like you're in Vietnam during a high intensity attack."
The estate cannot be forced to stop the flights as light aircraft noise is not covered by statutory noise nuisance.
Reading West MP Alok Sharma has called for the helicopter to take off and land further away from the house to reduce the noise.
He said: "It is noisy, I understand why neighbours feel the way they do but it's uncontrolled airspace. I have also suggested that they look at a quieter helicopter."