Maidenhead town centre revamp plans rejected by council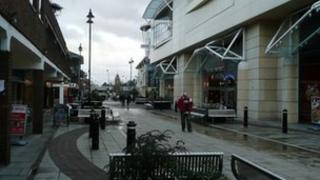 A £150m scheme to regenerate Kings Triangle in Maidenhead town centre has been rejected by councillors.
Plans included a new shopping centre, parking facilities, homes and offices.
Applicants ING RED UK revised the bid to redevelop King Street, Queen Street and Broad Street after councillors raised concerns over the plans.
Windsor and Maidenhead Borough Council development control panel members voted against the proposal by six votes to five, on Tuesday.
'Very disappointing'
Conservative councillor Derek Wilson, who supported the scheme, said: "It is very disappointing that, despite several months of reworking the application in light of members' concerns, the majority of my panel members felt that not enough progress had been made and that Maidenhead deserves better."
Liberal Democrat councillor Simon Werner said: "I think the regeneration of Maidenhead town centre is absolutely vital. There are more and more empty shops around the place.
"It took so long to get something going and it's just so disappointing that the council has decided that they are not going to go forward."
A decision on the outline planning application was deferred in December after concerns were raised by councillors about issues including parking facilities, and the safety of pedestrians and cyclists.
But despite changes made by ING RED UK, including plans for extra parking and highways alterations, some panel members said the application still failed to meet their requirements.
The town's chamber of commerce had also opposed the plans.