Reading bids for 'crucial' school place funding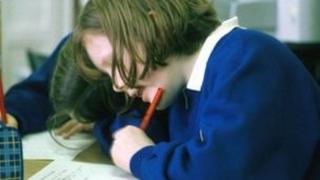 Reading council has bid for £23m of "crucial" funding to cope with a rising demand for primary school places.
Plans for an estimated 360 extra places needed each year involve expanding schools and building an academy.
The Labour-controlled borough council said every child was offered a primary school place in Reading this year after it invested around £2m.
But a Reading Tory spokesman said the bid to the Department for Education (DfE) could have been made earlier.
Eight bids were lodged to the government's Targeted Basic Needs Programme and a decision is due in June or July.
Reading borough council's seven-year forecast predicts a further 2,520 places are needed, mostly in the west of the borough.
It also predicts providing this number of places permanently would cost about £47m, including the building of a new academy for the Oxford Road area of Reading.
Labour councillor John Ennis, lead member for education, said the DfE funding would play a "crucial part" in helping to meet the demand.
But Conservative councillor and education spokesman Isobel Ballsdon said the council had "made life difficult for themselves by leaving it so late".
She added its "main failure had been the historic lack of forecasting".
Reading reflects a national shortage of school places.
The 2011 census showed a 34% increase in children aged 0 to four in Reading in the last ten years.