Windsor Castle hydro power contract to begin in coming weeks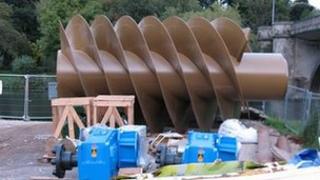 Windsor Castle has confirmed it will officially start using hydro-electricity "in the next few weeks".
Two giant water turbines were installed at Romney Weir on the Thames in Berkshire in December 2011 to supply electricity to the Royal residence.
Project director David DeChambeau said the contract marked a milestone in an "amazing project" for "the best customer in the world".
No official launch ceremony for the project has been planned yet.
'Dinner party story'
A Windsor Castle spokeswoman said the contract between the castle and Southeast Power Engineering will become effective once performance testing is completed.
The turbines had already provided electricity for the castle during recent tests.
American Mr DeChambeau said he was very proud to be providing hydro-electricity for the Queen.
"I'm going to have a dinner party story for the rest of my life," he said.
He added the hydro-electricity plant would be providing the "lion's share" of power for the castle and that the plant is named Virginia, after his mother.
The scheme included the recent installation of an 11,000-volt cable connecting the system to the castle.
The project should have been completed in 2012 but was delayed after complications forced Southeast Power Engineering, which designed and built the turbines, to rethink where the cables should be installed.
The multimillion-pound scheme will produce 2m kWh a year, which is enough to power 600 homes, said Mr DeChambeau.
Surplus energy generated by the turbines will be fed into the National Grid.