Lorry driver hurt in Woolhampton pub crash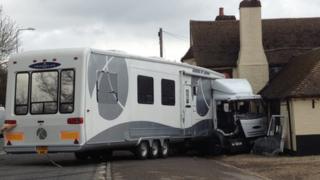 A lorry pulling a mobile home has crashed into a village pub.
The driver was airlifted to hospital after the crash at The Rising Sun on the A4 Bath Road at Woolhampton, Berkshire, at about 12:55 BST.
The fire service used winches and cutting gear to rescue him from the wrecked cab.
He was taken to the John Radcliffe Hospital in Oxford for treatment. Thames Valley Police said his condition was not thought to be critical.
Landlord Wayne Sangwell said he was "shocked" by the crash, but said his pub had remained open the whole time.
However, the road was closed in both directions for about four hours until the truck and its trailer - designed for use during location filming - could be removed.
'Almighty bang'
Mr Sangwell said "[The driver] was very, very lucky. The lorry had actually jack-knifed and hit the corner of the pub rather than full face on.
"I had a couple of elderly customers sat in the bay windows at the front of the pub eating their meal. I was sat down talking to them and we just heard this almighty bang which was a little bit like an earthquake, and then we saw this lorry on the other side of the wall.
"If he was about 6ft to the left he'd have come clean through the bay windows and taken us with him. It was that close."
The pub's toilet block was damaged in the crash. A side wall was also pushed in, with cracks in ceilings and windows.
A structural engineer was called to check the safety of the building.
"It doesn't look very good but it's safe," Mr Sangwell said.
He has called for a 30mph speed limit on the road, calling it a "dangerous bend".
A spokesman for Reading Buses said its delays were "inevitable".