Queen and Duke of Edinburgh visit Mars factory in Slough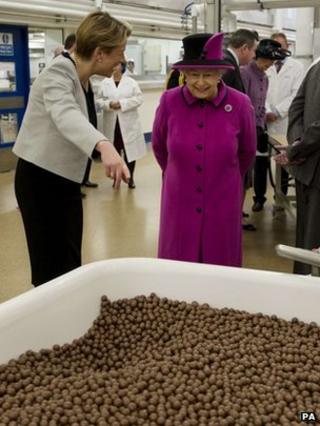 The Queen and the Duke of Edinburgh have visited the Mars chocolate factory in Berkshire.
The royal couple toured the research plant in Dundee Road, Slough, and watched demonstrations, including the making of Maltesers.
She was also presented with an edible replica of the Irish state coach, made from chocolate, sugar and 24-carat gold leaf.
Before the Queen left she unveiled a plaque to mark her visit.
Fiona Dawson, president of Mars Chocolate UK, took the royal couple on the tour around the factory.
Presenting the Queen with her gift, she said: "It's the first time we've had gold leaf in one of our products.
"I hope it doesn't take off otherwise it might be expensive to make."
'Eaten or kept?'
The monarch appeared pleased with her carriage, that also featured an edible painting of Windsor Castle complete with a gold frame and two M&Ms dressed as guardsmen, wearing bearskins and guarding the rear of the picture.
As she stepped forward for a closer look, the Queen said: "Yes, very clever, it's rather detailed isn't it?"
She pointed out the chocolate carriage to Philip who said to the president: "You expect it to be eaten or kept?" before adding: "Put it in your museum."
The royal couple then left for their next visit, to officially open a new community centre built as part of regeneration scheme in the Britwell area of the town.
The building includes a new library, offices and a community meeting space.
Mars' new £7m research and development facility was opened by the firm in September.
The company has had a factory in Slough for more than 80 years, with the Dundee Road plant employing 1,000 people producing 2.5m Mars Bars a day.
Ms Dawson said after the Queen's visit: "It has been one of the most exciting days at Mars Chocolate UK since we first opened the factory in 1932."