Berezovsky's daughter's tribute to 'extraordinary' man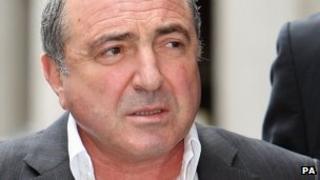 The daughter of Russian tycoon Boris Berezovsky has paid tribute to her father after he was found dead at his home in Berkshire.
The 67-year-old's body was found by an employee on Saturday on a bathroom floor at his house in Mill Lane, Ascot.
A post-mortem examination found his death was consistent with hanging.
Anastasia Berezovsky, 19, said on behalf of her mother and brother: "My father was not the typical parent, nothing about him was ordinary."
She and her brother Artem are Mr Berezovsky's children with his second wife Galina Besharova.
Miss Besharova, 53, reached a divorce settlement with Mr Berezovsky of more than £100m in 2011.
No violence signs
Ms Berezovsky added: "He has coloured my life in infinite ways, and I know that what he concerned himself most with was making all his children proud.
"His determination and excitement for every aspect of life is something that stands out in even my earliest memories of him and that will always remain deep in my heart.
"He has taught me many things about this world.
"He has taught me to never stop fighting for what one believes in no matter what the costs may be.
"I doubt anyone could have met a man with a stronger presence, or with charm that was more overwhelming than the one my father possessed.
"There aren't enough words in any language that can somehow express everything that he was and everything he will continue to be. The only word that comes close is extraordinary."
Police have said the post-mortem examination found nothing to indicate a violent struggle, but investigations at the property would continue for several days.
They had earlier said there was no evidence so far that a "third party" was involved.
More tests, including toxicology and histology examinations, are to be carried out but results were likely to take several weeks, police said.
Mr Berezovsky amassed a fortune in the 1990s following the privatisation of state assets after the collapse of Soviet communism.
He survived numerous assassination attempts, including a bomb that decapitated his chauffeur.
Mr Berezovsky emigrated to the UK in 2000 and was granted political asylum here in 2003 on the grounds that his life would be in danger in Russia.
He was married twice and has four other children - two with his first wife and two with a long-term partner.
The tycoon's wealth is thought to have considerably diminished in recent years, leaving him struggling to pay debts in the wake of costly court cases.
Last year, he lost a £3bn ($4.7bn) damages claim against Chelsea Football Club owner Roman Abramovich.