Slough Borough Council stolen dog system 'needs overhaul'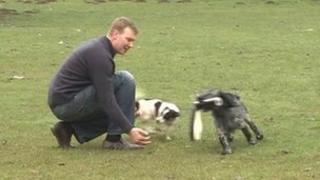 A man who has had five dogs stolen in just over a year has called for council dog warden procedures to be overhauled.
Steve Jones from Compton, Berkshire, said he was charged hundreds of pounds after some of his dogs were found.
He said: "I don't know who the bigger crooks are, the council or the thieves."
Slough Borough Council, which found one of his dogs, said Mr Jones could not expect taxpayers to cover the cost of rescuing his pets.
Mr Jones had two trained and valuable working gun dogs stolen from locked kennels on 22 February 2012 and three more dogs stolen on 1 March. Three of them were recovered.
One of the dogs, a Jack Russell named Milo, was found dumped on the M4 by Slough council's dog warden on 3 March.
'No profit made'
Mr Jones said he had to pay £210 for kennels because Milo was not recorded as "found" until 7 March, via a volunteer-run website called Dog Lost.co.uk.
"I had to pay for the four days Milo was in kennels, despite no details of the dog being available online, he said.
"There is no central council-run database of missing dogs."
A Slough Borough Council spokesman said: "We understand the predicament was not one of Mr Jones's making but we cannot expect Slough tax payers to cover the costs associated with his dog being rescued.
"We do not make any profit and only ask dog owners to cover the cost of the service their pet has received."