Simon Hathaway jailed for killing his baby son Jordan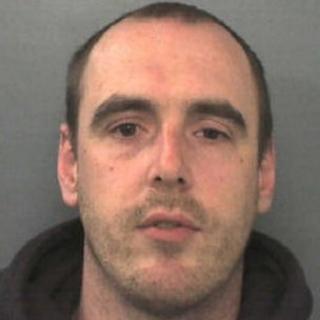 A man who killed his five-week-old baby son by shaking him violently in a rage and throwing him on to a sofa has been jailed for six-and-a-half years.
Simon Hathaway, 32, was found guilty of the manslaughter of son Jordan at the former family home in Colnbrook, Slough, Berkshire, on 22 February 2011.
His wife Anne, was found not guilty of wilfully neglecting her son.
Reading Crown Court heard Jordan died from bleeding to the brain at Wexham Park Hospital in Slough.
The couple, who now live in Cerne Close in Hayes, west London, had denied the charges.
Det Sgt David Honeyball, from Thames Valley Police, said after the sentencing on Thursday: "Throughout this protracted and complex investigation, our focus has always been on gaining justice for Jordan, who suffered horrific and ultimately fatal injuries at the hands of his father."
The trial heard Jordan died less than 90 minutes after his parents first contacted their GP surgery.
Joanna Glynn, prosecuting, said a "golden hour" between baby Jordan receiving his injuries and receiving medical attention could have saved his life.
Fractured limbs
She said Hathaway was downstairs alone at the time of the assault while his wife was upstairs sleeping.
Mrs Hathaway was shown her son when her husband brought him to her and he was floppy and not breathing.
The court was told she alerted her doctor's surgery at 08:47 GMT and was advised to call an ambulance immediately. But she did not ring 999 until 09:25 GMT - 38 minutes later.
Jordan was found by paramedics to be blue and with a weak pulse.
He had fractures to his legs and one arm and injuries to the back of his eyes, which had all been caused when Hathaway shook him, the court was told.
Both parents were arrested and Hathaway denied any assault and said his son was fine but he had been crying that morning and had a big sneeze just before he became ill.
He said that after the call to the GP surgery he became responsive again, flinging his arms around, and they thought he was fine.
He said his wife went upstairs to get dressed as she was going to take him to the doctors but he collapsed again.
But Miss Glynn said the force used to inflict the injuries "was beyond any normal or even rough handling".