Lambourn cemetery clean-up upsets families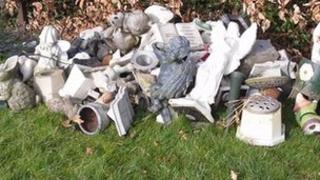 Grieving families have criticised a council for removing possessions they left on graves in a Berkshire cemetery.
Items including statues of angels and teddy bears were left in a pile at the edge of Upper Lambourn Cemetery.
The parish council said "additional, unauthorised objects" made the graveyard untidy and unsafe.
Cathy Holding, whose daughter is buried in the cemetery, said she was "absolutely devastated" by the removal.
"People deal with their feelings in different ways. For me it shows that I still care by having the ornaments on there," she said.
"I don't think they are obtrusive or gaudy - they are fitting."
A statement from Lambourn Parish Council said rules for what can be placed on graves had been in place for several years and a notice had been put up saying they would be enforced.
"The parish council has been in touch with the individual owners of plots to try to agree a way forward with this matter and many of them agreed to remove items. Despite this, a number of graves were still not compliant," it said.
It insisted the removal of items was "done with sensitivity" and none were thrown away.