Newbury sex attacker scared off by victim's dog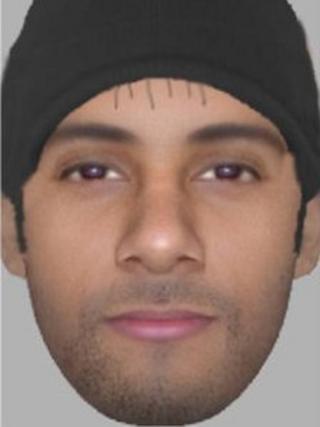 A sex attacker who tried to drag a woman into some bushes was scared off by his victim's dog, police have said.
They have issued an e-fit of the man, who grabbed the 40-year-old woman on a footpath near Hutton Close, Newbury, Berkshire, last Wednesday evening.
"The victim's dog caused the offender to flee after constantly barking and may have even bitten the offender," a Thames Valley Police spokesman said.
The attack happened on a road parallel to the A339 near the Vodafone site.
The victim told police she noticed a man following her who she had seen at the underpass at the end of Hutton Close.
Police said the man grabbed the woman around her mid-section and tried to drag her from the path into the bushes.
The man is described as Asian, in his late 20s to early 30s, slim, and about 5ft 10ins tall.
He was wearing a black woollen beanie-style hat, a black coat, gloves and a black rucksack at the time of the attack, at about 18:00 GMT on Wednesday 27 February.