Ice cream van man Rick Daniow stunned by licence fee charge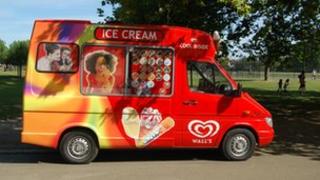 An ice cream van man is confused why his licence to trade costs him three times more than in a neighbouring district.
Rick Daniow, from Wokingham, Berkshire paid £2,400 for his street trading licence last year. In nearby Reading, it would have only cost him £771.
Mr Daniow has also discovered some councils provide the licence for free.
Wokingham Borough Council says a half price six-month licence will be available to traders from April.
Mr Daniow has compiled a list of what 30 other local authorities charge for the licence, which allow ice cream van sellers to trade on the street.
'Massive disparity'
He said: "The prices varied from nothing at all in eight cases to around £50 to £80 here or there.
"It's not until you get into Berkshire that it suddenly leaps up to thousands of pounds.
"In areas like Slough and Windsor and Maidenhead, the licence costs upwards of £3,000 a year."
Bob Fox, from the Nationwide Caterers Association, said: "There's a massive disparity across the country in street trading licences, which is very hard to understand.
"It purely seems to depend on licensing officers at each council and how they choose to set the fees.
"In the current economic climate, mobile caterers don't make anywhere near enough money to recoup these fees."
Wokingham Borough Council and West Berkshire Council share trading standards services.
In a joint statement, they said: "Street trading fees are set having taken into consideration all costs associated with consultation.
"They include inspection and grant of the licence, as well as monitoring and control of licensed operators and investigations into allegations of persons trading without consent."