School's space balloon project missing in Berkshire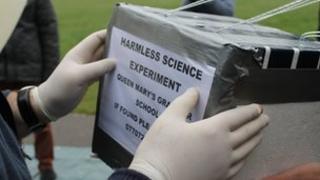 A balloon sent to the upper atmosphere by a West Midlands grammar school has been lost in Berkshire.
Sixth-form students at Queen Mary's Grammar School launched "Horizon" - a camera supported by a giant helium balloon - on Saturday.
It rose to 21 miles (34km) and came back as planned that afternoon, landing just outside Basingstoke.
Teacher Adam Coghlan said: "When we got there one of our trackers had failed." Its last GPS signal was from Tilehurst.
Year's work
"This project represents nearly a year of work for us and contains photos taken of the Earth from an altitude of 34km," Mr Coghlan said.
"We'd really like to get the photography back."
The camera is in a 1ft (30cm) cubed polystyrene box sealed with blue and silver gaffer tape.
It is attached to a 4ft (1.3m) diameter luminous green and orange parachute and has the school's contact details on it.
Mr Coghlan urged anyone who finds the project to contact the school or hand it into police.