Berkshire health trust could be taken over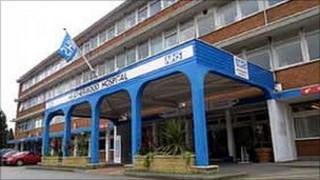 A debt-ridden Berkshire health trust could be taken over by another hospitals trust in a bid to improve patient care and services.
Frimley Park Hospital NHS Foundation Trust in Surrey is in talks with Heatherwood and Wexham Park Hospitals NHS Foundation Trust.
The trusts say an initial assessment must show "significant benefits" for it to progress.
It will not affect proposed changes at Heatherwood Hospital in Ascot.
Frimley Park is the lead partner with "full co-operation" from the Heatherwood and Wexham trust, which runs Heatherwood Hospital in Ascot and Wexham Park in Slough.
In a joint statement, the trusts said: "Over the next few weeks an initial assessment will be made.
"Depending upon the outcome of this assessment, a decision will be taken as to whether Frimley Park Hospital NHS Foundation Trust will lead a due diligence process to fully investigate the effect of a potential acquisition.
Deficit forecast
"If the initial assessment does not indicate significant benefits, no further work will be undertaken."
The Heatherwood and Wexham Trust is forecasting a £6.9m deficit by the end of March. In 2010 the trust needed an £18m loan from the government.
Meanwhile Frimley Park ended the last financial year with a £4.5m surplus and is predicting a similar figure this year.
In a statement NHS Berkshire said: "It is for provider organisations to make decisions about how best to run their business."
Meanwhile minor injuries services could move from Heatherwood to an urgent care centre in Brants Bridge in Bracknell under plans for health services in East Berkshire.
NHS Berkshire also recommends closing the hospital's Ascot Birth Centre and improving rehabilitation services.
Findings of a public consultation will be reported to a joint Primary Care Trust board in March.