Popham Airfield targeted by burglars for second time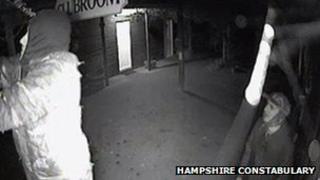 Burglars have targeted a Hampshire airfield for the second time in as many weeks stealing tools, generators and aviation fuel and damaging aircraft.
Buildings at Popham Airfield were broken into on Monday night and Tuesday morning at 21:00 and 02:00 GMT.
Police have arrested two men from the Basingstoke area in connection with another burglary on 27 January.
A 35-year-old was released without charge while a 25-year-old remains in police custody.
Police said the burglary on 27 January at about 23:00 GMT saw offenders spray graffiti on aircraft, set off fire extinguishers and cause widespread damage.
Tools, televisions and various equipment from the airfield's buildings were also stolen along with a number of charity boxes and items of sentimental value to members of the club.
CCTV images from the first burglary were released by police while officers are currently reviewing footage from the most recent incidents.