Royal Berkshire Hospital invests £500,000 in A&E staff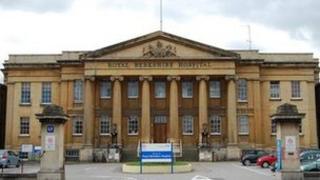 The Royal Berkshire Hospital has invested £500,000 in extra staff to meet demand in its accident and emergency (A&E) department.
NHS figures show although the Reading hospital is meeting the target for seeing people within four hours, only a third are in and out within two.
In England, the national average for admissions to be handled within two hours is 48%.
Three consultants are among the new members of staff in the department.
The investment has also funded an additional number of emergency nurse practitioners. A total of 185 staff are employed in the hospital's A&E department.
Dr Rob Slater is among the three new consultants brought in.
'Improve communication'
He said: "We're currently seeing around 90,000 patients a year, around 240 a day.
"Nationally, it's predicted demand is increasing between two and three per cent year-on-year. In Reading, we're seeing an 8% rise.
"Our aim is to ensure people see a senior specialist doctor at the earliest possible stage.
"We're also trying to improve communication with patients so they are aware of the waiting times and the likely pathway they'll take through the hospital."
Michael Watson, from the Patients Association, welcomed the move.
He said: "It's not ideal that the hospital is not meeting the national average, but we're encouraged to see them being pro-active in addressing the situation.
"Across the country when demand increases to use hospital services, we're seeing A&E departments are pinch points."