Thames Water apologises for Lambourn Valley sewage flooding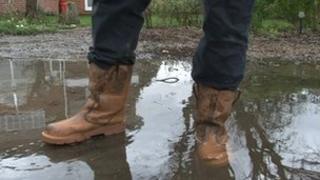 Thames Water has apologised to customers in west Berkshire whose properties were damaged by sewage over Christmas.
Residents quizzed the company at a public meeting in Lambourn Valley.
Newbury MP Richard Benyon and representatives from the Environment Agency and West Berkshire Council, also heard from people affected.
Thames Water admitted natural drainage systems failed to cope with the sheer volume of rainfall during December.
Raw sewage affected properties in the Lambourn Valley as the river burst its banks and flooded into the nearby sewer network.
'Utterly miserable'
Thames Water spokesman Craig Rance said: "We are really sorry to customers who feel we have let them down over the past few weeks.
"This has been a very stressful time for people who have been suffering at the hands of sewer flooding, which is utterly miserable.
"Our sewer network has never been designed to handle the volume of water seen last month."
Thames Water is continuing to use five tanker lorries in the Lambourn area to help reduce flows in the network.
Mr Benyon admitted feedback from the meeting on Tuesday will encourage Thames Water to make further investments.
He said: "What we need is a sewerage system that is sealed and allows water to flow into the pipe when we're experiencing high levels of groundwater.
"We want to make sure this doesn't happen again.
"The infrastructure needs to catch up with the growth communities in the Lambourn Valley have experienced in recent years."