Eton Dorney Paralympic travel plans in place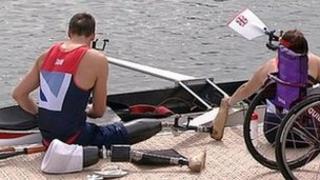 Organisers of London 2012 Paralympic events at Eton Dorney Lake are anticipating 10,000 people a day will visit during the games.
The complex on the Berkshire-Buckinghamshire border is hosting rowing and canoe sprints between 31 August and 2 September.
Similar travel arrangements and road closures to those used for the London 2012 Olympics will be in place.
Ticket holders are encouraged to travel by either train or park and ride.
Having welcomed more than 20,000 people a day to the area during the Olympic Games, Thames Valley Police, Locog and local councils will be hoping their travel plans hold firm once again.
Public transport is expected to be busier than normal between 07:00 and 09:30 BST and from 12:30 to 15:00 BST.
'Huge success'
Windsor and Eton Riverside and Slough railway stations will handle the bulk of spectators arriving. Windsor Racecourse, which was used as a transport hub during the Olympic Games, will not be required for the Paralympics.
Windsor and Maidenhead Borough Council's cabinet member for highways, transport and environment, Councillor Phill Bicknell admits high standards were set during the Olympics.
He said: "Universally, transport arrangements were hailed a huge success.
"Although access for the Paralympic Games will be from the Buckinghamshire side of the lake, we will be working hard to make sure the arrangements are equally smooth.
"It is very important that the A4 is kept moving throughout the three days of competition so we appeal to drivers to steer clear of the northern access to the venue during the peak times."