Olympic events at Eton Dorney: Windsor traders' mixed fortunes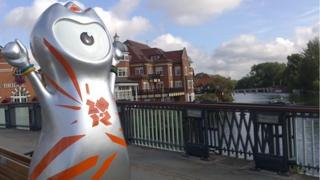 Windsor's tourist magnet has always been its castle and other royal connections.
But during the Olympic rowing and canoeing events at Eton Dorney, the Berkshire town's traders and businesses were hoping London 2012 tourists would also be drawn to its bars, hotels and restaurants.
The Thames Valley Chamber of Commerce and local council said it was too early to calculate any revenue boost or tourism footfall during the two Olympic weeks.
But the opinion from businesses on the street was mixed.
Those firms which line the route to the Olympic venue experienced a boom in trade, while sales off the beaten track tended to be slow.
"It hasn't been the cash cow we expected it to be," said David Hayden, manager of the Mercure Windsor Castle Hotel.
"Week one during the rowing was busy but week two has been worse than the same point last year.
"Because Team GB were very strong in the rowing it attracted a lot of support for the first week, but for the canoeing and everything else there has been less interest."
'Phenomenal' trade
Josh Richards, supervisor of Cinnamon Cafe on Windsor and Eton railway station, said although there had been a lot of people and new tourists not many of them had ventured into the town.
"They come off the train, get on the bus and go straight to Dorney Lake," he said.
Aman Cheema, manager of A Little Present souvenir shop, said sales in his business were 40% down on last year.
"The Olympics could not compete with Kate and William souvenir sales last year," he said.
Meanwhile, Stuart O'Brien, manager of the Royal Oak, opposite the railway station, described business during the Olympic period as "phenomenal".
"We opened up at 6am every morning and worked 16-hour days.
"Being here by the station and by the buses coming back from the race course, it was lucky for us because we were the first port of call."
'Record sales'
Mr O'Brien said one of the highlights had been when "hundreds of Aussies" descended on the pub, taking over the garden with their flags - among them four Brits hung a union jack.
Barbara Pleace, shift manager at the King and Castle, said she had served athletes from Australia, Hungary, Russia and Spain.
"They were all singing and ordering pint after pint - sometimes 20 pints in one go," she said.
She added that the pub had experienced "record sales - the highest in the last decade".
Ashley Durkan, manager of The River House bar and restaurant, said: "Takings compared to last year have nearly doubled.
"We got the people walking to Eton from about 9:30."
For some the extra trade proved somewhat overwhelming.
Nathan Benford, manager of the George Inn, close to Eton Bridge, described the Olympic trade as "manic".
"We got hit hard - it was a bit too much," he said.
"We are only a small operation with a tiny kitchen and at one point we had to close the kitchen in order to get all the previous orders out."
For Patryk Sniegowski, manager of The Crooked House tea shop, trade last year was better but he added it "wasn't a disaster".
"It wasn't very, very busy but we still had the business," he said.
British Chambers of Commerce said in a statement: "There are concerns that the Games are affecting productivity, while retail and leisure sectors report lower footfall.
"It will be some time, though, before we know what effect the Olympics has had on business, and undoubtedly there will be winners as well as losers."