Heavy rain affects Queen's swans on Thames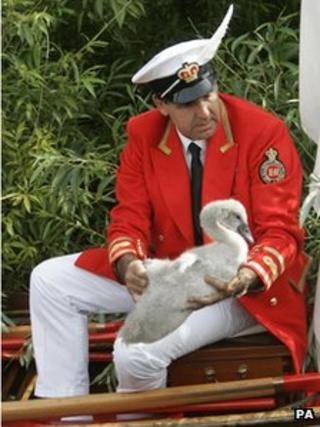 As the damp summer continues, spare a thought for the Queen's swans on the Thames.
Not only has the annual swan census been postponed because of high, fast-flowing water, breeding numbers are expected to be down this year after heavy rain washed out nests earlier in the season.
Add that to the everyday dangers of discarded fishing tackle, a bird virus, dog attacks and overhead lines, then the life of a swan begins to sound quite perilous.
It is hoped the census, called Swan Upping, will be able to start on Tuesday, when birds will be counted and checked over.
Swan Upping usually lasts five days, beginning in Sunbury and ending in Abingdon. It involves century-old boats called skiffs rowed by "uppers" who wear traditional scarlet uniforms.
The Queen's swan marker, David Barber, has led the survey for 20 years, and wears a special white feathered hat for the occasion.
Swan warden
He said: "We will look after the young cygnets, mark them and check them over, because we get an awful lot of injuries during Swan Upping week where we have fishing tackle injuries so we take the tackle from the birds and put them back in the water."
Mr Barber said the number of breeding pairs fell in 2011 following a severe attack of duck virus enteritis (DVE), a seasonal infection which normally occurs between March and June.
Despite a reported recovery in the breeding population, he said May's floods had a "serious effect" on the number of cygnets in 2012.
Chris Perrins, professor of zoology at Oxford University, is the Queen's swan warden and uses a motorboat to reach the birds.
He said: "The numbers went down very seriously in the 70s and early 80s and it turned out it was largely, although not wholly, lead poisoning from swallowing fishing weights.
"There was a lead ban in '87 for most of these weights and since then the numbers have been steadily increasing. There were about five pairs from Sunbury to Henley at that time and now there are about 30.
"This year we know a lot of the nests got washed out in the early rains so there will be a lower number of breeding pairs this year.
Dog attacks
"The biggest reason for the swan rescue people being called in is still fishing tackle - with birds getting tangled in fishing lines or swallowing fishing hooks."
Prof Perrins said rescuers were also called to help birds that had flown into overhead wires or been attacked by dogs.
Wendy Herman, of Eton-based charity Swan Lifeline, said: "Since January we have had about 14 dog attacks already. I think three or four would be average.
"We had one on Friday that had died just as we got to it - it had a chunk bitten out of its back.
"I would ask people, if they know their dogs aren't very good around wildlife, to keep them on a lead."
Swan Upping, which usually takes place in the third week of July, had been due to start in Sunbury-on-Thames, Surrey, on Monday but it was too dangerous for the boats to take to the water.
It is believed it is the first time in its 900-year history that part of the event has been cancelled.
It is now hoped it will begin at Cookham, Berkshire, at 15:00 BST on Tuesday, depending on weather and river conditions. It is due to pass through Buckinghamshire, ending at Abingdon Bridge, Oxfordshire, on Friday.