Green councillor objects to Reading park and ride plans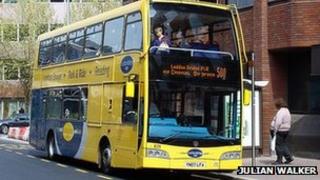 A Green Party councillor from Reading has hit out at plans for a new park and ride scheme in the town.
The scheme, which aims to reduce car pollution and congestion, would involve Palmer Park and Clayfield Copse car parks near the town centre.
Councillor Rob White said he would object to the plans by Reading Borough Council as it would "worsen" traffic.
The council said the scheme would make the "most efficient use" of existing car parks and promote public transport.
'Outer road congestion'
Mr White, who represents Reading's Park ward, said park and ride schemes "normally get sold along the lines of reducing congestion and pollution".
But he added this plan would attract people away from other nearby town centres and towards Reading, so would "worsen" traffic and add "congestion on the outer roads".
He said: "The council isn't going to close any town centre car parks, this is additional car parking, for additional travel by additional cars."
The proposal would be to charge £4 for up to 16 hours and offer a free bus service into central Reading.
Mr White said the two car parks in question are currently free and a return bus journey costs £3.60 - cheaper than the council plans if there is one person in the car.
A council spokesman said the proposal was "to promote sustainable transport in Reading" and "not to make a profit".
A briefing report on the proposal stated the car parks would provide an extra 250 long stay spaces.
A public consultation will end on 5 July.