Royal Ascot crowds stick to dress code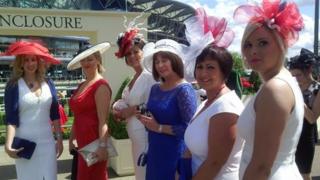 Day one at Royal Ascot and the sun is shining as the elegantly dressed ladies and top-hatted gentlemen arrive.
The outside of the racecourse is awash with large union jacks to mark the Diamond Jubilee.
A carriage pulled by Friesian horses has just trotted past with a peppering of ladies in brightly coloured hats.
However, this is the year where the fascinator is under the spotlight as it forms part of a new dress code ban in the Royal Enclosure.
But the style assistants, brought in to enforce the new rules, have not yet had to cover up any ladies arriving at the Berkshire racecourse.
So far women have been sticking to the dress code, which includes knee length dresses or slightly higher and covered shoulders.
But I did spot a pink Hummer en-route to Royal Ascot, so who knows what the rest of the day will bring.
So far though, most women appear to be in agreement with the new dress code.
Ladies' Day
Kat Habbitts, 34, from Cheltenham, has been going to Royal Ascot for several years.
She said: "A few years ago it was all short skirts, fake tan and hair extensions.
"It's more formal this year so it's more appropriate. I just think it looks far better and more elegant.
"But perhaps on Thursday (Ladies' Day) things may look different."
Joan Waller, aged 79 and from Cheadle in Cheshire, is attending her first Royal Ascot.
She said: "I very much approve of it because the dress code should be respect of years gone by.
"It went downhill a little bit with the short skirts and the fascinators and it's only right to have a more formal code in the Royal Enclosure."
Georgina Hutchins, 17, from Bewdley in Worcestershire, is also a first-time Royal Ascot visitor.
"I think it's only right because after all the Queen is here, isn't she," she said.
Natalia Kapchuk, 28, from Russia, but who lives in Dubai, arrived wearing a mini-dress and said she was "a little bit nervous" trying to get into the Royal Enclosure, which has banned mini-dresses this year.
"I took a risk and have got a long dress with me just in case," she said.
"But I was allowed to go through, nobody stopped me or asked me any questions".
However, Paul Salisbury, owner of racehorse Secret Asset which is due to compete later, arrived wearing a cravat despite knowing they had been banned from the Royal enclosure.
He said: "I don't really see what their point is. A cravat looks as smart as a tie."
Mr Salisbury said he would spend the day in the owner and trainer enclosure so would not have to worry about the new rules.
Celebrities including Manchester United footballer Michael Owen have also been spotted at the racecourse.