Ford gets warning lights to stop drivers risk-taking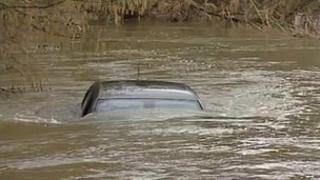 A new flood warning system for a fast-flowing ford in Berkshire is being installed.
Lights are being put up at Land's End ford in Charvil where drivers have been ignoring warning signs and markers.
Costing £30,000 the flashing lights will be placed 100m and 30m from the ford's edge and will be triggered when flood water makes it impassable.
The lighting system, being installed by Wokingham Borough Council, is expected to be in place by August.
The ford usually has just a few inches of water covering the road, but when the water is higher the markers are regularly ignored by motorists.
There have been 87 incidents at the ford in which motorists have had to be rescued from their vehicles by emergency services since 1993.
One woman ended up recovering in hospital after her vehicle became submerged when she tried to cross the ford.
She ignored the two warning signs and careered into the ford which had swelled to a depth of about 4ft (1.2m) and had to be rescued by firefighters.