Bracknell murder police get more time to question man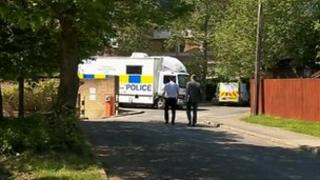 Detectives have been given more time to question a man arrested on suspicion of murder after a woman's body was found in a Berkshire town.
The woman, Tuanjai Sprengel, 43, from Basemoors, Bracknell, was found in an underpass in Bay Drive, in the town's Bullbrook area, on Sunday morning.
Magistrates granted detectives an extension until 05:45 BST on Wednesday to question a 28-year-old man.
A post-mortem examination was carried out on the victim on Monday.
Det Ch Insp Steve Tolmie of Thames Valley Police said: "The victim died as a result of severe blunt force trauma to the back of her head.
"There was a small puncture wound to her neck which would have bled but it is not relevant to her cause of death."
He said there was no indication the victim's throat had been cut.
The woman is not believed to have any relatives in the UK and police are trying to locate her family elsewhere.