Diamond Jubilee cake baked for Queen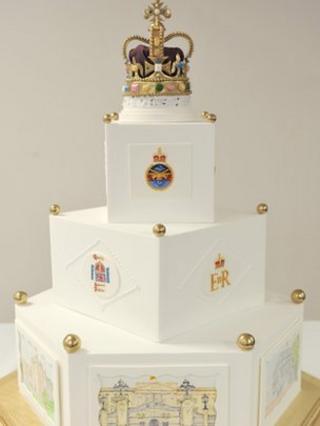 Military caterers have baked a cake for the Queen's Diamond Jubilee parade and muster at Windsor Castle.
Instructors from the Defence Food Services School at Worthy Down near Winchester spent the past six weeks crafting the 154lb (70kg) tiered cake.
Topped with a crown made entirely from sugar, the cake reflects the Silver, Gold and Diamond Jubilees, the Royal Navy, the Army and Royal Air Force.
The cake will be formally presented to the Queen at the event on Saturday.
The parade and muster will be the main celebration where the armed forces pay tribute to the Queen.
Some 2,500 personnel and bands from all three services will parade in Windsor Castle, and then through Windsor to muster in an arena at Home Park.
There will be a drum head service and an address from the chief of the defence staff and the day will conclude with one of the biggest tri-service flypasts of the Queen's reign.
A drum head service is a tradition going back centuries that soldiers in the field on a Sunday would lay their drums neatly and use them as an altar.