Slough church stops using lead after £12k metal theft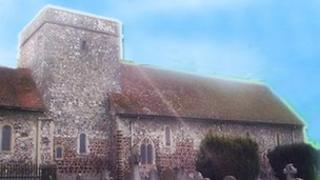 An 11th Century Berkshire church has been repaired without the use of lead after being targeted twice by metal thieves last year.
St Lawrence's Church in Slough had its lightening conductor stolen in January last year and its roof was stripped of lead in February.
The metal stolen was valued at £12,000 in total.
Now the church has used a rubber substitute for repairs, to deter thieves from targeting the church.
Church Verger Allan James said he had been "devastated" to discover the damage.
"You need money for the conservation of an ancient building that dates back to 1070, let alone to cope with criminal damage," he said.
The church is the burial site of famous astronomer William Herschel.
The use of the new product on the roof has been approved by Slough Borough Council and English Heritage.