Windsor fire station 24-hour cover plan approved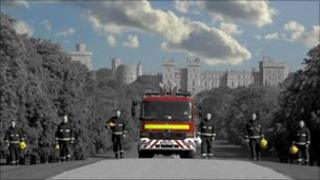 Twenty-four hour fire cover for Windsor will be reinstated following a five-year battle to save the Berkshire town's station from closure at night.
Windsor became a day-crewed station when the premises in Wokingham opened as a 24-hour operation in October.
Firefighters from Slough currently crew the Windsor fire engine at night.
But the Fire Authority approved the plans to station a fire engine in the town for round-the-clock cover at a council meeting on Wednesday.
The fire service will make decisions regarding crewing levels as well as the type of vehicle used and will liaise with the council over a suitable base.
Chief fire officer Iain Cox, of Royal Berkshire Fire and Rescue Service, said: "There is a lot of work still to be done to make this work, including consultation with the Fire Brigades Union but the hope is to have the new arrangements in place as soon as possible."
The Fire Brigades Union (FBU) in Berkshire had criticised the fire authority's original plans to keep the 24-hour service with a smaller fire engine and fewer crew, saying it would "endanger public safety".
The authority had proposed shutting the station from 20:00 to 08:00 because it only averaged three calls a week at night.
The FBU led the campaign to keep the station open for 24 hours-a-day and said having a smaller appliance there was a "bad idea".