Soham echoes of Beenham murders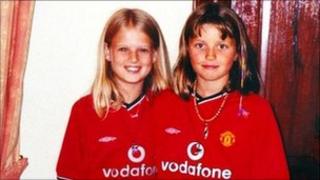 It was less than six months after the murder of Yolande Waddington in the tiny Berkshire village of Beenham when killer David Burgess struck again - this time his victims were two nine-year-old girls.
It was a case with striking similarities to the 2002 Soham killings where 10-year-old girls Jessica Chapman and Holly Wells were killed by school caretaker Ian Huntley.
Both were in small close-knit communities, both attracted worldwide attention and on both occasions the killers helped in the search.
Like Soham, Beenham was put firmly in the spotlight when Jeanette Wigmore and Jacqueline Williams were found dead at the site of a gravel pit in 1967.
Blood on boot
Like Huntley, Burgess was seen around the village showing "no signs of guilt" and offering to help.
The deaths also put more pressure on Det Supt Wallace "Wally" Virgo who was drafted in from London to solve the murder of 17-year-old Yolande and now had two more victims.
The Scotland Yard officer would later make his own headlines with his dealings involving Ronnie Biggs with a Rupert Murdoch newspaper and when he became, at the time, the highest ranking Met officer to be jailed for corruption.
But 10 years earlier it was the hunt for the Beenham murderer which made news around the world with coverage featuring in the likes of the Chicago Tribune, Sydney Morning Herald and Ottawa Citizen.
The village, situated near to Kate Middleton's childhood home in Bucklebury, even saw soldiers using mine detectors brought in to search the land where the girls were found and divers' hunt for a murder weapon.
State of fear
Burgess soon became the prime suspect and when police found blood on his boot matched one of the girls he was convicted in July 1967 and jailed for life - but Yolande's murder went unsolved.
That was until a cold case review was opened by Thames Valley Police.
Using new DNA techniques, officers gathered overwhelming evidence against Burgess who has now been convicted of the killing 46 years on.
But the recent development has seen a part of Beenham's history resurface which many had tried to forget.
If you walk around the village and raise the topic, many locals cannot recall the case, close their doors or politely decline to comment.
But farmer Freddie Brown who has lived in the village all his life and was 25 at the time of Yolande's murder, can still recall Burgess.
"I used to see him round the village like lots of people.
"At that time he never showed any signs of guilt, I remember speaking to him at the time. He also later helped in the search for the girls.
Escape to Brazil
"The police came to interview me at my farm, they were checking alibis and I was cross-checked with a friend who verified where I was at the time."
When the two girls were killed, the village was put in a state of fear, with parents urged to walk their children to school and not let them out alone.
Mr Brown said Det Supt Virgo had become a well-known local figure and the senior officer was put in the spotlight again after becoming Met commander.
Recent files released by the National Archives revealed Scotland Yard was contacted by the Sun in 1970 and Cdr Virgo helped confirm fingerprints it had obtained were that of the Great Train Robber Ronnie Biggs.
It led to Biggs selling his story which many believed helped fund his eventual escape to Brazil.
Cdr Supt Virgo was later jailed for corruption on a separate matter in 1977 but had his conviction quashed on appeal.
Back in Beenham, Mr Brown recalled how the detective used his officers to try to infiltrate the village.
"Plain clothed police would be in the pub in the evening, but it was so obvious they weren't locals, it was a joke really, but I guess they were just listening for clues."
With Burgess's conviction now closing the Beenham cases, the village hopes the chapter in its history can be closed for good and peace given to the families.