Reading School inspection report from 1648 uncovered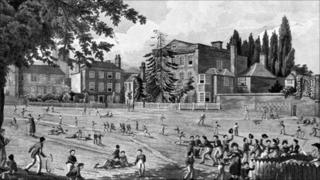 With the pending appointment of a new Ofsted chief inspector, there is talk of replacing current school inspections with unannounced visits.
But while modern-day appraisals of education look at many factors of school life, a newly uncovered document reveals a rare insight into what was deemed important in 1648.
An inspection of Reading School in Berkshire led to the dismissal of its new master, Thomas Pocock, following several complaints from parents about his "ability and diligence".
Questions asked by the three Oxford University dons included, "What authors of classical Latin and Greek texts are your scholars able to give an account of in their several forms?
'Free schools'
"How many scholars have you in this school ripe for the university?
And, "Do you train up your scholars in the knowledge of religion and what course do you take for that end and purpose?"
The discovery of the report follows a two-year project at the Berkshire Record Office researching 17th Century documents owned by Reading borough.
Senior archivist Mark Stevens said that a school report from such an early period was rare.
"It's only from 1870 onwards that you start to get organised state education so that's where you get the creation of inspection bodies," he said.
"This report is the sort of thing you're only going to find in the very old endowed schools."
Reading School benefited from an endowment in the will of old boy William Laud, the Archbishop of Canterbury from 1633 until he was beheaded during the Civil War in 1645.
Mr Stevens said Laud's endowment meant the school had a religious focus.
"It's not too dissimilar to the free schools that are happening again now," he said.
"You have an agenda that you wish to promote.
"People like Laud had a religious agenda, he wanted boys to grow up in fear of the sight of God."
'Unable to govern'
He added that the school's curriculum had a Classics approach to education with the intention of getting the boys into Oxford, the only local university at the time.
"If you're going to university there's an expectation that you're going to have both a classically Christian religious education," he said, "but also one that's based on the classics - your Greek and your Roman history and the ancient languages of Greek and Latin."
The three dons reported that Pocock was "altogether unable to govern the school" and had tested the boys' knowledge in his presence.
While there is no document of the answers Pocock had given to their questions, the dons did report that he had refused to be examined himself and declined "all other ingenuous ways of trial by the visitors".
Now a state-funded secondary, Reading School is reported to be one of the 10 oldest schools in England.
It still has Classical Greek as a compulsory subject.