Shackleton Antarctic expedition biscuit sells for £1,250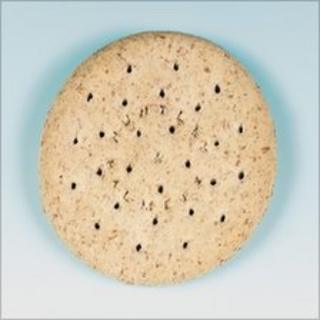 A 104-year-old biscuit taken by Sir Ernest Shackleton on his Antarctic expedition in 1907 has sold for £1,250 at auction.
The biscuit, among the supplies taken on Shackleton's Nimrod expedition, was made by Huntley & Palmer's.
The Reading-based company also provided energy biscuits to Captain Robert Scott for his Discovery expedition in 1901.
The preserved biscuit went for £250 under the estimated price at the auction at Christie's in London.
The snack was found in the hut at Cape Royds in the Antarctic where Shackleton was based during his Nimrod expedition.
"The people in the team didn't like the biscuits, but it just about kept them going," said Nick Lambourn, director of exploration and travel at Christie's.
At the same auction, a pocket diary owned by Captain Scott sold for £27,500, exceeding the pre-sale estimate of between £6,000 and £10,000.
It details Scott's last months spent in England ahead of his fateful Terra Nova expedition to the South Pole and includes a reference to his meeting with the directors of Huntley & Palmers regarding sustenance ahead of the expedition.
The highest price ever paid for a biscuit at auction was £7,637 in 2001, when Christie's sold some biscuit crumbs from Shackleton's famous Endurance expedition.