Arts and crafts made by Broadmoor patients go on sale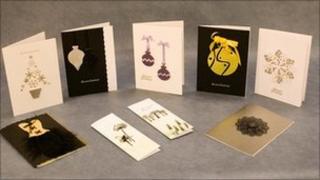 Arts and crafts made by patients are to go on sale at Broadmoor Hospital's new shop next Wednesday.
The Broadcrafts shop, located by the high-security hospital's main entrance, will be open to the public.
All sale items will all be made in the Berkshire hospital's workshops and the shop's logo has been designed by a patient.
The shop will be staffed by volunteers and takings will be used for workshop materials and equipment.
'Sensitive' issue
Speaking to BBC Radio Berkshire, the clinical director of Broadmoor Hospital, Kevin Murray, admitted it was "difficult" for people to understand why customers might want to buy items made by inmates of Broadmoor.
The Crowthorne hospital is home to some of Britain's most dangerous criminals, including Yorkshire Ripper Peter Sutcliffe and serial killer Robert Napper, convicted of the 1992 murder of Rachel Nickell.
"We recognise it is sensitive. Some of our patients have been very much in the news because of what has happened before they got to Broadmoor," said Dr Murray.
"Our job is to try and make them and the community safer when they leave."
According to Dr Murray, the Broadcrafts shop will allow patients to develop existing skills and learn new ones.
Access to tools
Dr Murray said: "We're a hospital, the treatment of our patients, as well as risk reduction work, is to get them to have a structured day. Producing goods in our workshop is part of our treatment programme."
He said the gifts on sale at the hospital shop would include greeting cards, pottery, summer and winter hanging baskets, ceramics and woodcraft.
"They will be the sort of goods you can produce in a setting with some access to tools but fairly limited access to tools," he said.
Dr Murray said many of his patients were from "deprived backgrounds" and had never had "success".
"Starting to give people some sense they can do something positive, they can contribute, is the way forward for them," he said.
"Our results are much better than if people simply go to prison where their mental health problems are not treated and when they're released they continue to pose a risk to the community."
The shop will be open every Wednesday between midday and 16:00.
A similar exhibition of work by prison arts charity the Koestler Trust is currently on display at London's South Bank centre.
The exhibition showcases artworks by offenders, detainees and secure patients.