Heatherwood consultation fears after resignation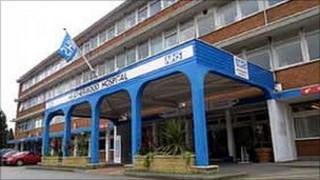 An NHS Trust has said the resignation of its chief executive will not affect a consultation period on the future of Heatherwood Hospital in Berkshire.
Julie Burgess stepped down as head of the Heatherwood and Wexham Park Hospitals NHS Trust on Wednesday.
Campaigners wanting to secure the Ascot hospital's future said Ms Burgess was "at the heart" of the consultation.
A trust spokesman said work was "continuing along the same lines" as it was prior to the resignation.
Earlier in the month Ms Burgess had outlined three proposals for Heatherwood at a public meeting.
Two of the three options involved closing the hospital.
The NHS Trust said it would hold a consultation on the plans in October or November.
Ms Burgess's resignation, which has taken place with immediate effect, could affect the consultation process, said Mr Green of campaign group Slough and Windsor Against The Cuts.
He said: "It does raise questions as to how the consultation will proceed now as she was at the heart of this process."
Trust spokesman Martin Leaver said: "We have just begun a series of discussions with key local people and these are going ahead as planned."
The Heatherwood and Wexham Park NHS Foundation Trust needed an £18m loan from the government last year.