Tesco depot on Courage Brewery site approved by Reading council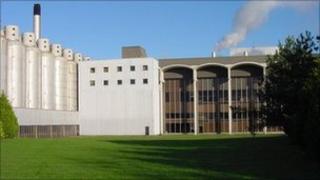 A new Tesco food distribution depot that will create 1,000 jobs has been approved by Reading Borough Council.
The supermarket chain will open the centre, on the old Courage Brewery site, by Christmas if Wokingham council agrees to the application next week.
Tesco corporate affairs manager James Wiggam said: "We want to invest in Reading and we believe the jobs will be a huge boost to the local community."
He added that 800 people had already enquired about working at the centre.
The Imperial Way site is in the Reading suburb of Whitley and is on the boundary between Reading and Wokingham.
Tesco said the jobs include 100 managerial jobs and 150 construction jobs.
There will also be jobs for warehouse staff, drivers, supervisors, catering and maintenance, with shifts available over a 24-hour period.
Whitley councillor Mike Orton said of the planning meeting on Wednesday that "one of the conditions was that the council would monitor the employment situation and the provision of training and apprenticeships".