Broadmoor killer cannibal 'was not watched'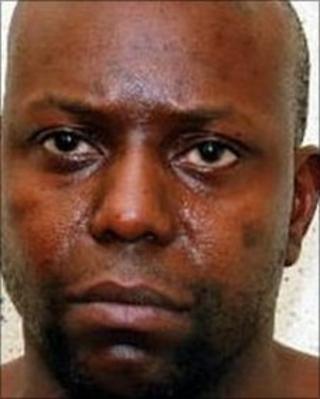 A cannibal who killed a patient at Broadmoor Hospital because he "wanted to eat him" was not being watched properly, an inquest jury has ruled.
The jury also found Peter Bryan had not been adequately assessed at the Berkshire secure unit in April 2004.
Bryan "smashed" Richard Loudwell's head on the floor and tied a ligature around his neck in a dining room.
He told staff afterwards that he "wanted to eat him", an inquest at Berkshire Coroner's Court heard.
Mr Loudwell, 60, who was admitted to Broadmoor in January that year, was taken to Frimley Park Hospital in Surrey but died on 5 June, never having regained consciousness.
The jury was told Bryan had attacked a 21-year-old woman, hitting her on the head around six times with a claw hammer in 1993.
'Extremely dangerous'
He later pleaded guilty to manslaughter on grounds of diminished responsibility.
Bryan spent eight years at Rampton Hospital but was eventually allowed back into society.
He later killed and ate a man, named in reports as Brian Cherry, on 17 February 2004.
The killer was admitted to Broadmoor's Luton ward on 15 April 2004, after a stay at Belmarsh prison, where he was described as "unpredictable", presenting a "grave risk to others" and "extremely dangerous".
He was put in seclusion but four days after his arrival was allowed to mingle with patients under "general observations" for 15-minute checks, the inquest was told.
On 25 April, he attacked Mr Loudwell in the dining room of Luton ward.
Joanne Fisher, registered mental nurse and team leader on the ward, described finding Mr Loudwell with head injuries.
She told the inquest Mr Loudwell was "hard to work with", "generally unco-operative" and had complained of bullying.
Assault 'inevitable'
The inquest heard he had disregarded advice from staff and told others the offence for which he was in Broadmoor.
One senior member of nursing staff described Mr Loudwell as the "most unpopular patient I have ever met", saying it was "inevitable" that "sooner or later" he would be assaulted.
However, according to Ms Fisher's statement, he had started to "interact" more and shortly before he was attacked was seen playing cards with other patients.
At the conclusion of the inquest, the jury ruled Mr Loudwell died of a hypoxic brain injury, ligature strangulation and blunt trauma to the head.
Recording a narrative verdict, the jury said the dining room was not adequately observed by nursing staff at the time of the attack.
Jurors also found Bryan's mental state had not been adequately examined before his release from seclusion on 19 April, or between that date and the attack on 25 April.
West London Mental Health NHS Trust, which runs Broadmoor, said a new management team and board had been put in place since the incident, and it had addressed many of the hospital's previous shortcomings.
It also said plans for a new building at the hospital would help improve patient safety, as the hospital's "Victorian infrastructure" continued to present a "significant challenge" to safety.