Frederick Potts memorial to be created by sculptor Tom Murphy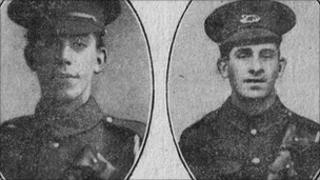 A sculptor who designed a statue of John Lennon for Liverpool Airport is to create a monument to honour Reading's only Victoria Cross winner.
Tom Murphy, from Liverpool, will sculpt a memorial to mark the outstanding bravery of World War I soldier Trooper Frederick Potts.
The Berkshire Yeomanry soldier fought in the Gallipoli campaign in August 1915.
He rescued an injured comrade from between enemy lines using a shovel.
Mr Potts, serving in the Berkshire Yeomanry and aged 22, dragged fellow soldier and townsman Arthur Andrews to safety on a shovel under heavy enemy fire, despite having a gunshot wound in his thigh.
The trust is hoping to raise £100,000 to create a statue which is around 8ft (2.5m) tall and cast in bronze.
At the moment Forbury Gardens is the favoured location although other sites are being considered.
So far £10,000 has been raised towards the cost.
If the trust is unable to raise £100,000, other options will be considered for the memorial, but it will still be created by Mr Murphy.
Councillor Fred Pugh, chairman of the Potts VC Memorial Trust, said: "Basically we had about 30 artists who expressed interest, but this chap came up with the best ideas.
"It will be an impressive monument."
Mr Murphy said he was "interested" in World War I.
He also designed a bronze statue of World War I soldier Noel Chavasse VC for Liverpool town centre.
He said: "My grandfather suffered from gas in World War I and died before I was born."