David Walliams rescues dog from the River Thames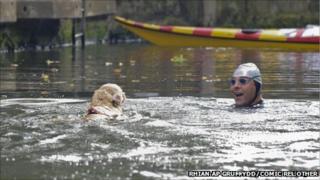 Comedian David Walliams took time out of his River Thames charity swim to rescue a struggling dog that jumped in to join him.
The Little Britain star had arrived at Cookham Lock in Berkshire on Saturday during his 140-mile challenge when Vinnie the Labrador leapt in.
Owner Gina Fidler from High Wycombe, said Walliams was forced to help Vinnie onto the river bank.
She said: "It was so surprising and a little bit embarrassing."
One-year-old Vinnie suffers from a bad hip and undergoes frequent hydrotherapy sessions.
"Vinnie is obsessed with water," said Ms Fidler, who added: "He'll jump in at any opportunity."
She said Vinnie "took this humongous leap off the side of the bank" and swam across to Walliams.
'Big splash'
"David turned round, he must've heard this big splash and he must've been so surprised," she added.
Vinnie was then struggling to get out because the bank of the river was around 3ft higher than the level of the water.
At this point Walliams swam over to the dog and "lifted him out by his bottom".
Walliams then continued on with his marathon challenge, part of the BBC's Big Splash initiative to inspire people to swim.
The distance is equivalent to swimming the Channel seven times.
To support Walliams, visit his pages on the Sport Relief website.
To learn how to swim, or how to improve technique, visit the Big Splash website.