Berkshire dairy farmer sells up because of milk prices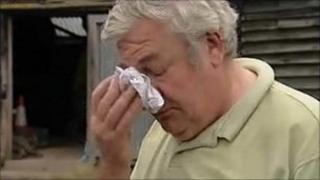 A Berkshire dairy farmer has blamed falling milk prices paid by major supermarkets for his decision to sell his cattle.
Michael Bowden, of Brimpton, said selling his 100-strong herd at auction in Somerset would be a "great wrench".
He said: "It's an extremely sad day, I've virtually reared all the cows from the day they were born."
A British Retail Consortium spokesman said that supermarkets paid the best prices for milk.
Mr Bowden's family has been dairy farming for 110 years but he is selling up to focus on arable farming.
"The increase in costs and low milk prices are all beyond our control," he said.
"We haven't been able to reinvest in the farm for quite a few years because there hasn't been enough profit. The facilities aren't good enough for modern milking."
He said other factors had contributed to his decision but supermarkets had "a big part to play in keeping the price of milk that we receive as farmers as low as it is".
Nigel Stacey, chairman of South East NFU Dairy Committee, said that the average cost of milk production was 31p a litre, but that the average milk price was 26p.
"This means farmers are losing at least four pence a litre," he said.
He added that Berkshire had lost a third of its dairy farmers over the past five years.
Richard Dodd, from the British Retail Consortium, which represents Tesco, Sainsbury's, Asda and Morrisons, said Mr Bowden was "wrong" to blame them.
"The supermarkets are the best payers for milk," he said.
"The top 13 best paying milk contracts in this country are all contracts paid by supermarkets."
He added that milk production had risen by 2% from last year despite dwindling numbers of dairy farmers because "production is becoming concentrated on the bigger producers".