Reading young offenders' education 'unacceptable'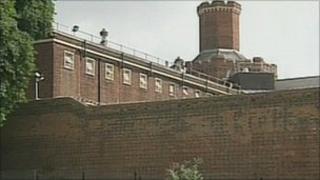 Educational courses and training opportunities at Reading Young Offenders Institution are "unacceptable", a report has found.
The Independent Monitoring Board (IMB) said provider Manchester College was not "up to the job".
The board said teachers had not been replaced and inmates had to stay in their cells due to cancelled lessons.
Manchester College and the Ministry of Justice (MoJ) both said they would respond to the report in due course.
The college won a contract to provide educational and vocational opportunities at the institution at the end of last year.
But IMB's report claims there has been staffing problems and the promised number of teaching hours have not met.
Gordon Ross, IMB chairman for Reading Young Offenders Institution, said: "The capability of Manchester College is not up to it.
'Harm and distress'
"As soon as they took over, the availability of teachers started to slide.
"The inmates who have volunteered or signed up for education are having to stay in their cells, which in itself is poor and not leading to future behaviours we would like.
"They [Manchester College] need to be made to perform.
"We believe they are still receiving the contractual sum of money to give so many hours of education, they are not giving those hours and still receiving the money."
Ex-offender Erwin James, who is now a writer and columnist, said: "It is quite right if you have been a victim of one of these young boys it is hard to accept they go to prison and get an education and get skills, in effect benefit from it.
"But unless they have access to this they are going to come back out and cause harm and distress to other people."
In a statement, Manchester College added: "As would be expected, we will be providing a formal response to the report directly to the IMB and the minister, along with our partners."
The MoJ said: "We thank the IMB... for the report which will be fully considered by ministers. We will respond to the board in due course."