Woburn Sands hanging baskets spark Royal Mail postal row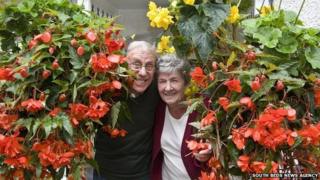 A man says Royal Mail has refused to post him letters because his hanging baskets are too big.
Peter Kelly said his postwoman had told him ducking underneath the trailing begonias and geraniums to get to his front door was hurting her back.
"We're in our late-70s so I can't see why she can't do it," said Mr Kelly, from Woburn Sands, Buckinghamshire.
Royal Mail said there had been no formal suspension of mail but it was in discussions about what could be done.
Mr Kelly said he first heard about the concerns after speaking to the postwoman on Monday after not receiving any letters for a fortnight.
"I've had [baskets] bigger than that. The previous post lady used to just walk through," he told BBC Three Counties Radio.
"It doesn't take a half a second to bend down, push the post through and then out.
"We have to do it, me and my wife, and we're in our late-70s so I can't see any reason why she can't do it."
Hazel Kelly said: "We have been doing the baskets for 30 years.
"A couple who had just got married knocked on the door and asked if they could have their pictures taken and one Chinese lady was so taken with our garden she bought 60 postcards of Woburn Sands to send as Christmas cards."
Royal Mail spokeswoman, Felicity MacFarlane, said: "We'd like to apologise to Mr Kelly for his recent concerns over his mail delivery.
"There has been no formal delivery suspension but our postwoman has experienced difficulty on recent occasions delivering the mail.
"Mr Kelly's mail has been delivered to him today and Royal Mail is discussing the matter with the customer."