Grant Shapps urges Barnfield incinerator appeal challenge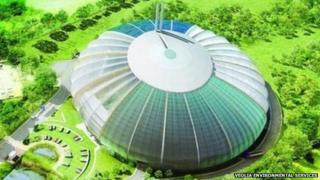 The government should "strongly oppose" the latest attempt to build a £1bn incinerator on green-belt land in Hertfordshire, an MP has said.
Welwyn Hatfield MP Grant Shapps said he was "disappointed" developer Veolia had decided to appeal against the ruling over the New Barnfield plant.
Communities Secretary Eric Pickles rejected the plans in July.
Veolia said a policy had been wrongly interpreted but Mr Shapps urged the government to challenge the move.
'Strong feeling'
The developers decided to take the matter to the High Court last week, alleging the decision did not follow the law, or current government policies.
Conservative Party chairman Mr Shapps said: "Our campaign to overturn planning permission illustrated the strong level of local feeling against the incinerator.
"As well as writing to the Secretary of State to urge him to challenge this appeal, I've requested a copy of the legal documents to see what grounds Veolia maintain they have for appealing this decision.
"We are not about to give up now."
Hertfordshire County Council said the energy-from-waste plant would have processed 380,000 tonnes of waste a year, saving taxpayers £667m over the 25-year contract.
Some residents have fought to block the plan for six years.
The council agreed the proposals in October 2012 but the decision was called in by the Department for Communities and Local Government.
A public inquiry was held last September.
Making his judgement, Communities Secretary Eric Pickles said the benefits did not outweigh the potential harm to the green-belt.