Unveiled Alan Turing celebrates codebreaker as gay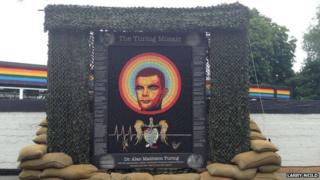 A piece of public art celebrating codebreaker Alan Turing as a gay man has been unveiled outside a Buckinghamshire nightclub.
Turing's work at Bletchley Park during World War Two helped accelerate Allied efforts to read German Naval messages enciphered with the Enigma machine.
He was convicted of gross indecency in 1952 but pardoned last year.
Pink Punters in Fenny Stratford said the art is "the world's first public work to recognise Alan as gay".
The owners of the Watling Street lesbian, gay, bisexual and transgender (LGBT) venue, near Bletchley Park, said they had spent several thousand pounds on the "street tribute".
Workers at at the Government Code and Cypher School in Buckinghamshire used the Bombe machine, which was developed by a team including mathematician Turing, to break codes.
But Turing's conviction, following which he was chemically castrated, meant he lost his security clearance.
Two years later, aged 42, he poisoned himself with cyanide, which a inquest deemed to be suicide.
The Queen granted him a posthumous royal pardon in December.
Yorkshire artists Al Budd and Rita Gav created the "colourful relief work" which features both Turing's face and the gay pride rainbow.
Project spokesman Larry Neild said there were tributes to Turing around the world but they were "all about his work as a codebreaker, a scientist and a mathematician".
"He died because he was a gay man and there is nothing to record that fact," he said.
"It's a very colourful and very powerful work of art that is very robust."
Project coordinator Gayle Dallas said: "In the computer industry he would have been bigger than Bill Gates had he lived.
"The commissioned work of art will be a reminder to LGBT people of all ages of this wonderful man whose only crime was to be born 50 years too soon."