'Fake death' businessman Sanjay Kumar jailed over £1m fraud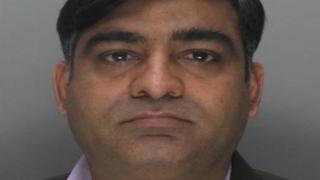 A businessman who faked his own death from "brain fever" in India to claim over £1m in insurance has been jailed.
Sanjay Kumar, 45, from Abbots Langley in Hertfordshire pleaded guilty at Southwark Crown Court to six counts of insurance fraud.
His wife, Anju Kumar, 46, pleaded guilty to two counts of fraud. She had received just over £10,000.
Mr Kumar was jailed for two-and-a-half years. His wife received a five-month sentence, suspended for two years.
The court heard that Mr Kumar flew to India in November 2011 and emailed his wife to say he was ill in hospital.
She later received a further email telling of his death from "brain fever".
A fake death and cremation certificate was presented to Aviva, Scottish Provident and Legal and General in order to secure a total payout of £1,155,789.38.
The policies were genuine, but the insurance firms became suspicious.
Investigations by the City of London Police's Insurance Fraud Enforcement Department (IFED) found no evidence of Mr Kumar having been admitted to hospital, no cause of death certificate, and no evidence that the crematorium existed.
'Deplorable' behaviour
Mr Kumar returned to England in August 2012 under an assumed name and was arrested the following month, along with his wife.
Analysis of his phone revealed "damning messages" detailing the fraud, police said.
At the time of her arrest Mrs Kumar had received £10,615.49. Judge Peter Higgins said the level of her involvement had had a "substantial impact" on her sentence.
Sentencing the pair, Judge Higgins said the scheme was professionally planned, showing "deplorable" and "deeply anti-social" behaviour.
"You saw in the policies and their criminal use there was a way of discharging your debts and as a way of starting a new, financially comfortable, life in India," he said.
The court heard that Mr Kumar had had civil judgments awarded against him due to unsuccessful, but legitimate, business ventures.
He also owed money to a business associate who had threatened him and put pressure on him to repay the debt.
The Kumars were under a "degree of improper pressure" but not enough for a defence of duress, said the judge.