Local elections: Labour make gains in Milton Keynes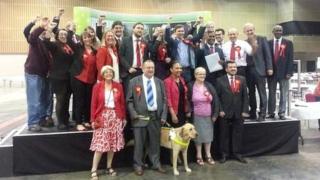 Labour look set to take control of Milton Keynes Council as a minority administration after becoming the party with the largest number of seats in the 2014 local elections.
Due to boundary changes all 57 seats were up for election.
Labour took 25 seats, the Conservatives took 18 seats, the Lib Dems 13 and UKIP one.
The council had been a minority Conservative administration, with no one party having overall control.
No party has overall control on the council but Labour has the largest number of councillors.
Before the elections there were 19 Conservative, 16 Labour, 15 Lib Dem 15 and one UKIP councillor.
There are six more seats on the new council .
Stepping down
Counting began at Arena:MK at 09:00 BST but at a press conference held earlier, Conservative councillor, Andrew Geary, announced he was stepping down as council leader to spend more time with his family.
"I don't think it matters who is leader. The leader gives the messages; that's been my job. It's a job that I have done to the best of my ability, that I've thoroughly enjoyed but it's now time to hand it on," he said.
The Conservatives and Labour have retained power at the councils which have declared their results in Hertfordshire.
The Tories lost one seat to UKIP in Broxbourne and one to Labour at Hertsmere but keep their large majorities at both local authorities.
Labour won three seats at the expense of the Conservatives to increase their hold on Stevenage.
The Lib Dems held on to Watford where Labour won three more seats.
St Albans remains a council where no single party has overall control.
Conservative leader of St Albans District Council, Julian Daly, said the result was a "realistic expectation" but the UKIP vote had been "surprisingly small".
"The wall-to-wall coverage of UKIP made it very hard to call which way the vote was going to go," he said.
All seats contested
In Watford the Conservatives lost one seat and the Green party two, all three going to Labour.
Lib Dem Dorothy Thornhill was elected mayor taking 64.8% of a vote that went to a second round under a proportional representation system.
In second place for Labour was Jagtar Dhindsa with the Conservative and UKIP candidates eliminated in the first round.
In North Hertfordshire the Conservatives retained power.
The Liberal Democrats held Three Rivers Council with Conservatives gaining one seat from Labour.
The Conservative held Welwyn Hatfield but Labour took three seats from them.
There were no council elections in Bedfordshire.
Votes for the European Parliament's East of England constituency are due to be counted on Sunday.