Dog burned with cigarettes by Barry Garside-Neville 'scarred'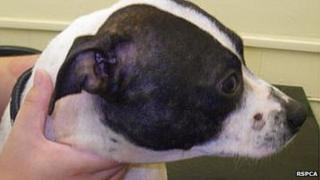 A dog has been left with physical and mental scars after repeatedly being burned with her owner's cigarettes until she "wet herself".
Barry Garside-Neville, 29, who lived in Welwyn Garden City in Hertfordshire, also threw and kicked Staffordshire bull terrier Ruby, the RSPCA said.
St Albans magistrates found him guilty of subjecting the dog to physical trauma and jailed him for four months.
He has also been banned from owning animals for life.
Witnesses at the court hearing described how Ruby would often be seen cowering away from Garside-Neville as he "physically abused and tormented" her.
They also described how he picked her up and held her in the air while blowing down her nose.
The offender, who now lives in the Norfolk area, was also found guilty of failing to protect his dog from pain, injury, suffering and disease after he left a skin condition untreated by vets.
'Still affected'
RSPCA Inspector Rachel Smith said it was "unbelievable" that "such pain and suffering" could be inflicted on an animal, and that the dog was "still affected by her experiences".
"This poor little dog has been left with not just the physical scars of her abuse but also the mental ones," she said.
"Whenever she meets someone new she will sit and shake for about five minutes until she decides you are OK and will not harm her.
"Once she has relaxed then she is a delightful dog who is very friendly and loves to play."
Ms Smith added that Ruby had now been with a foster family for a while and was doing "so much better".