Bedfordshire PCC says police stations will be 'decommissioned or replaced'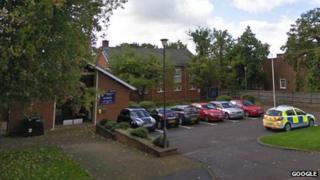 Some Bedfordshire police stations will be either closed or replaced as part of a money-saving review, the Police and Crime Commissioner (PCC) has said.
Olly Martins' plan includes relocating Ampthill police station to Flitwick and finding "more central and accessible locations" for Biggleswade, Houghton Regis and Leighton Buzzard stations.
Those involved were either under-occupied or had low footfall, he said.
Mr Martins had said jobs could be lost unless police stations closed.
The force estimates it needs to save a further £15m by 2018/19.
Its existing buildings cost £3m a year to run and the PCC aims to reduce this by 6% over the next few years.
The planned changes would create a "leaner and more efficient police estate that protects frontline policing", Mr Martins said.
Ampthill police station has been found a cheaper and "more accessible base" in Flitwick's The Hawthorns, about 2.5 miles (4 km) away.
'Draining police funds'
Greyfriars in Bedford will be decommissioned when an alternative base for the town centre is found and the force's Kempston headquarters site will be developed.
Some staff from Greyfriars, Luton and Kempston will be moved to Dunstable to "fully utilise" the current building.
Mr Martins said front desks, except for those at Bedford, Dunstable and Luton, were visited by an average of four callers per day.
"It's abundantly clear that the public would rather protect visible frontline policing than save redundant and underused police buildings," he said.
"Holding on to uneconomical buildings which are draining much-needed police funds is no longer an option."
He said the force was "not moving police officers out of communities" and was "enhancing neighbourhood policing by increasing visibility of officers".
Chief Constable Colette Paul said: "We are trying to ensure our police presence is in the right place to meet demand and offers best value for money."
The Bedfordshire Police Federation said policing service central Bedfordshire had been "challenging enough" with the reduction in police numbers but the closing of these stations would "only exacerbate" the situation.
Chairman Jim Mallen said: "It is a poignant day for the rural Bedfordshire communities ..... the local bobby working out of the local station will be lost forever and confined to the history books."