Mystery thief returns Bucks garden ornaments painted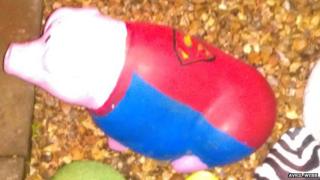 Ornaments stolen from a Buckinghamshire garden have been returned repainted as superheroes and zebras.
The thief or thieves then left a note signing themselves, "The Statue Hunters".
Avril Webb's pig statue was returned to her Aylesbury garden as "Superpig", chickens were given stripes and a hedgehog was painted as The Joker.
"I reported it to the police and called the thieves 'low-lifes', but they all came back so nicely painted," she said.
A hand-delivered letter signed by The Statue Hunters claimed responsibility.
Mrs Webb's ornaments began disappearing overnight from her garden on the Fairford Leys estate about three weeks ago
"I called the police, then a few hours later I had to call back as some had turned up with their new paintwork," she said.
"I have lots of ornaments in my front garden. Perhaps someone thought they were a bit dull and wanted to brighten them up."
Her black pig, which weighed about 33lb (15kg), would have taken two people to move, she said.
"When it came back, it was painted as a kind of Superpig with a big S on it."
Her chickens were disguised as zebras and one was painted to resemble the Kellogg's Cornflakes chicken, she said.
"I decided it was someone with a sense of humour."
Although most of the items were returned the same day or a few days later, a large ram ornament was not returned for three weeks.
"On Sunday I found it on the doorstep with a handwritten letter," Mrs Webb said.
"They said they were glad I appreciated the painting, but apologised for not being able to decorate the ram. I think that's because it has a shiny surface.
"They signed their letter, 'The Statue Hunters'."
Mrs Webb believes the same people were responsible for an ornament painted as cartoon character Lisa Simpson, which was left on her path.
"It's not mine, and I've heard of someone whose tortoise ornament was stolen and returned painted with the yin and yang symbols, so I don't think I'm the only person affected," she added.