Sharif Demirsay murder trial: "Blood everywhere" says partner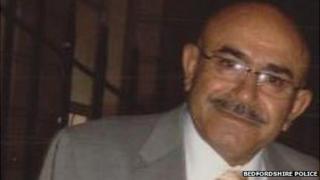 A pensioner has told a jury she could see "blood everywhere" as her partner of 21 years was stabbed to death in the hallway of their Bedfordshire home.
Sharif Demirsay, 65, was stabbed a total of 11 times at their Vineyard Way bungalow during the raid for gold and money in Kempston last May.
Four teenagers, aged 16 to 19, have denied the murder of Turkish-born Mr Demirsay at Luton Crown Court.
Mr Demirsay's partner Parshini Salhotra was also stabbed during the attack.
Giving evidence from behind a screen, with the occasional help from an interpreter, Mrs Salhotra broke down as she went into details about the attack.
Mrs Salhotra, 69, said "three boys" wearing hoodies and each armed with a knife, pushed their way into the home and immediately began attacking her partner, the court heard.
She said they "put the knife everywhere, backwards and forwards, the blood came out from everywhere."
She added two of the attackers also kicked Mr Demirsay as he lay on the ground and she saw a metal pole used to strike him across his hands.
Mr Demirsay later died in hospital from a fatal chest wound.
Travis Dixon-Charles, 18, Courtney Glynn, 19, and two boys aged 17 and 16 all pleaded not guilty to Mr Demirsay's murder.
In an effort to protect her partner the court heard Mrs Salhotra eventually grabbed her vacuum cleaner pipe from a cupboard and struck one of the youths over the head.
In retaliation, she said the attacker rounded on her and stabbed her in the left forearm, so that the blade of his knife passed through the arm and came out the other side.
Mr Dixon-Charles, Mr Glynn and the 17-year-old have denied aggravated burglary. All four defendants deny unlawfully wounding Mrs Salhotra.
The trail continues.